Account
In order to use Food Label Check it is necessary to open an account. In this account it is possible to organize the personal Recipes. If the registration is completed we suggest lunching again the browser Mozzila or Chrome. At the first access it must be used the temporary password received by e-mail.
Selection of the ingredients  
After the log in it is possible to create the first recipe. At the moment of the creation it is important to remember that to obtain a bilingual label it is necessary to fill in the name of the products in both languages. The ingredients are added through the searching tool: after the typing of the three letters of the products (for example "uva passa") a drop-down list will open where it is possible to select the requested ingredient. Once selected the product will be insert in the ingredient list. For the butchers it is possible to choice the meat cuts according to the GEHA standard classes.

Product technical data sheet
It is possible for an ingredient to be a finish product purchased from another business. To include this product in the Label it is necessary to upload it in the FLC database. To upload your own raw materials in FLC it is necessary to send to the Chamber of commerce the product technical Data Sheet provided by the seller. The technical Data Sheet is necessary also to provide your own products to other business. In case you don't have technical Data Sheet for your products, it is possible to use the following prototype: IT, DE.
Calculation
After each change of the ingredients, quantity and loss, Food Label Check calculate the new label draft.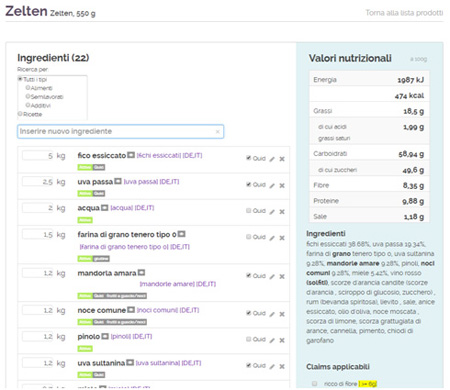 Label draft
As result is obtained a label draft for prepackaged food.  Food Label Check is designed for foods that are subject to general labelling regulations and are not subject to special regulations. In case of products that are subject to special regulation, the result obtain with the applications has to be implemented through the detail analysis with the help of expert in the field. The label draft obtained with Food Label Check can be used also for the information plaque for the selling of unpackaged products. It is important to remember that the information should be indelible. for example: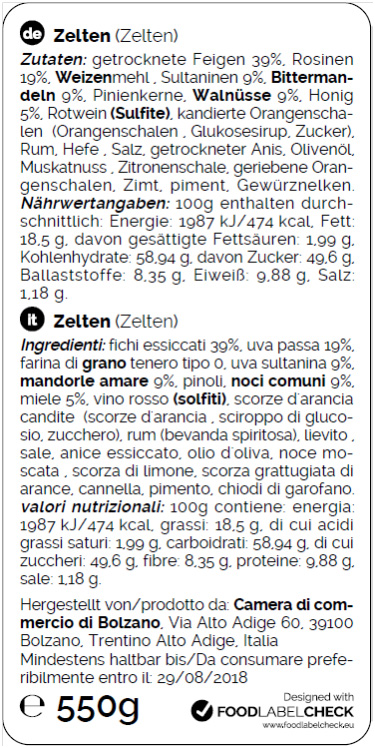 Was this information useful?